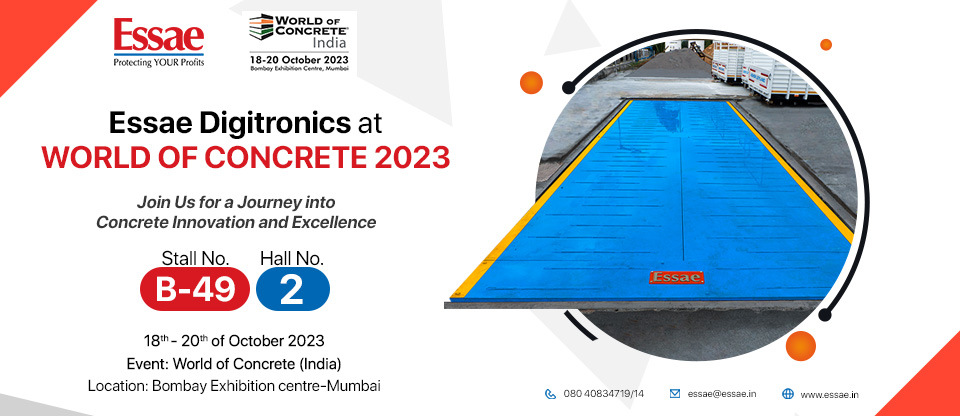 Essae Digitronics at World of Concrete 2023 Join Us for a Journey into Concrete Innovation and Excellence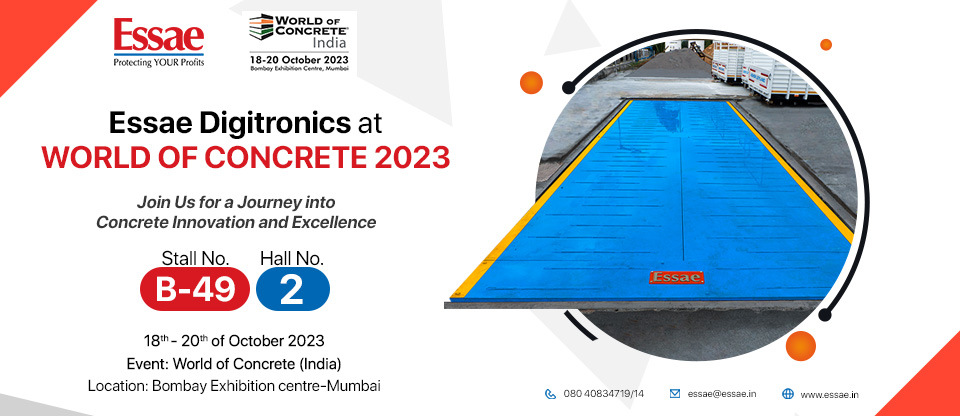 October 2023
Essae Digitronics at World of Concrete 2023 Join Us for a Journey into Concrete Innovation and Excellence
The World of Concrete India is India's premier expo dedicated to concrete products, featuring a wide range of products and technologies related to concrete, masonry, construction, and associated equipment. This year, World of Concrete India will be held at the Bombay Exhibition Centre, Mumbai, from October 18 to 20, 2023. The event will bring together over 10,000 industry professionals and more than 200 exhibitors from around the world who are involved in the concrete industry. It caters to a diverse audience, including architects, engineers, builders, contractors, and project managers.
The three-day program includes panel discussions, presentations, masterclasses, and exhibitions, covering a wide array of topics. Some of the key subjects to be discussed include trends in roads, bridges, and metro construction, digital and automation technologies in construction projects, the presentation of 3D printing technology to address India's unique housing and infrastructure needs, trends and innovations in precast concrete, challenges in quarrying, and maintaining the consistency of sand.
Essae Digitronics, India's leading manufacturer of weighbridges, is excited to participate as an exhibitor at World of Concrete 2023.
Essae's weighing solutions include:
Weighbridges play a crucial role in the construction industry, enabling the weighing of heavy machinery and materials. They help in controlling and managing the safe transportation of loads from a construction site, ensuring the safety of drivers and motorists, and avoiding penalties that can reduce a company's profitability.
Weighbridges facilitate the weighing of incoming and outgoing construction materials such as sand, gravel, stone, concrete, and asphalt. Construction vehicles can be weighed before and after loading materials. This optimization of material weights can prevent road damage. Heavy construction equipment like cranes, bulldozers, and excavators can also be weighed. Weighbridges are even used for foundation load testing, ensuring that structures or buildings can safely support their intended loads. By accurately tracking material usage, construction companies can better manage project costs, preventing overages and minimizing waste.
To obtain your complimentary visitor pass, please proceed by clicking on the following link: https://bit.ly/3AqOrJn.
To learn more about Essae Digitronics weighbridges and how they can enhance productivity, safety, and compliance in the construction industry, we invite you to visit our B-49, Hall 2 at World of Concrete 2023 in the Bombay Exhibition Centre, Mumbai. You can come and witness live demonstrations, speak with our engineers and representatives, and even book site visits.